FAQ: Cycling shorts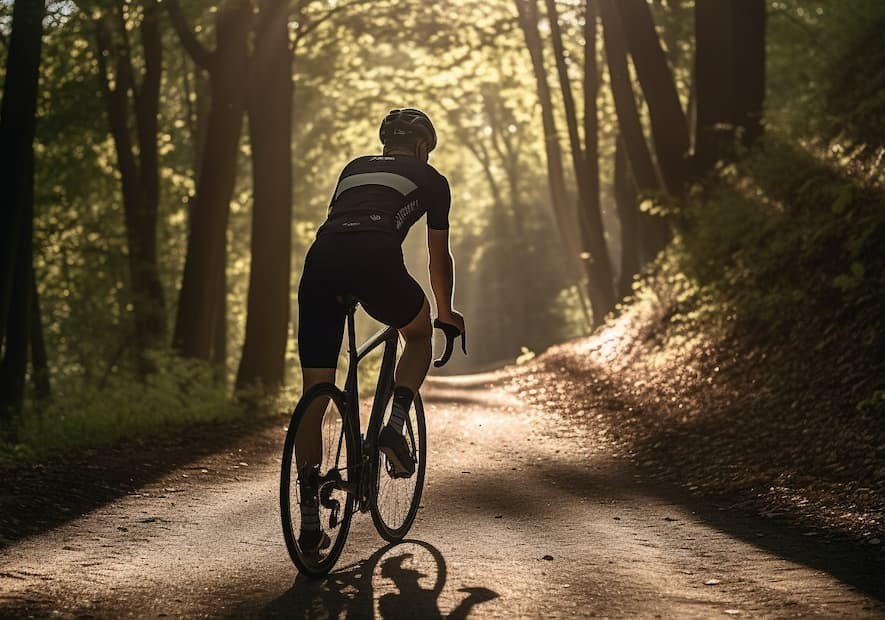 Cycling shorts are more than just an apparel for cyclists. They symbolize comfort, performance, and can often be the difference between a long pleasurable ride and a painful experience. If you're seeking advice on picking the right pair, how to wear them, or even how to care for them, you're in the right place. We will explore these questions and much more, providing you with all the insights you need to make the best decisions.
How to wear bike shorts?
To put on bike shorts, step into them and pull them up your legs. Adjust the elastic waistband for a snug fit. Make sure the shorts are positioned properly over your rear and crotch without any wrinkles. Optionally insert a chamois liner for extra comfort.
How to choose bike shorts?
When choosing bike shorts, opt for a breathable, stretchy material like lycra. Pick a style suited for your cycling discipline: road, MTB, triathlon etc. Check that the seams are flat to avoid irritation. Try several sizes to find the one that hugs your body shape without squeezing.
How to wash bike shorts?
To wash bike shorts, hand wash or use a gentle cycle at max 30°C. Use a special detergent for technical fabrics. Rinse thoroughly. Avoid fabric softener as it can clog the mesh. Lay flat to dry, away from direct sunlight.
How to choose the size of bike shorts?
To choose the size of bike shorts, measure your thigh circumference and compare to the sizes listed by the manufacturer. Select a close fitting size without compressing. Try on the shorts, they should contour the body without marking the skin. Allow some margin if you'll wear a chamois.
How to wear mountain bike shorts?
To wear MTB shorts, choose a padded and reinforced model to absorb shocks. Position the strap correctly between the buttocks to prevent slipping. Adjust the calf pressure. Optionally wear knee/elbow guards depending on your riding style.
How to properly position bike shorts?
To properly position bike shorts, place them so the top is just under the buttocks, not at the waist. The seams should be outside the thighs to prevent chafing. The fabric shouldn't wrinkle, bunch up or ride up when pedaling. Adjust the straps without squeezing.
How to wear compression shorts?
To wear compression tights, pull them up barefoot towards the top for uniform compression. Correctly position the top under the glutes and the seams outside. Choose the right size: they should squeeze without cutting off circulation. Hydrate skin before and after wearing.
How to repair bike shorts?
To repair bike shorts, inspect to find tears and assess damage. For a small hole, use special stretch stitching thread and zigzag stitch. For longer tears, opt for a lycra patch to heat-bond inside.
How to fold bike shorts?
To fold bike shorts, turn them inside-out. Fold in half lengthwise with seams outside. Then fold inwards to make a rectangle. Roll up without squeezing too much and store flat to avoid creases.
How to choose compression shorts?
When choosing compression tights, check the rating: higher means more pressure exerted. Pick based on intended use: recovery, muscle support, performance etc. Prefer breathable fabrics like lycra. Confirm size with your measurements.
How to wash gel bike shorts?
To wash shorts after applying chamois cream, rinse thoroughly with clean water to remove residue. Soak in soapy water to lift out remaining cream. Gently scrub if needed. Rinse well. Avoid machine washing to protect technical fibers. Lay flat to dry.
In essence, the choice and upkeep of your cycling shorts can significantly shape your biking experience. By being well-informed and following the right advice, you can maximize your comfort and fully enjoy every bike ride. Remember, every cyclist is unique; hence, take the time to experiment and find what works best for you. Safe riding!